PAYMENT INFORMATION AND INSTRUCTION HOW TO USE ONLINE PAYMENT WITH ONEPAY/VCB
Kindly note, we donot have check out method from our website so everybooking, we will then send you a confirmation email within 24 hours for the availability and instruction for payment. Please check back your email later and do unspam us as there may have the attachment in our emails and sometimes your email server thinks they are spam but actually not.
Below are methods of payment we used. The first one is top convenient and secured way. You finish your payment in 5 seconds with your creditcards. This method is protected under Verified by Visa, MasterCard Secure Code, JCB Secure programs. We, however, offer alternative methods for the flexibility:
I) ONEPAY/VIETCOMBANK ONLINE PAYMENT GATEWAY (VISA, MASTERCARD, AMEX, JCB ACCEPTED)
Like PayPal, OnePay is a payment gateway but specialized in Vietnam where the PayPal has not yet reached. This is a perfect and the first payment processor which gains reputation among clients about its efficiency and timely friendly support.
OnePay, in cooperation with biggest bank here in Vietnam, the Vietcombank have been implemented this service among many tour operators here in Vietnam.
OnePay is approved by MasterCard for this payment collection on the behalf of us. OnePay uses SSL Verisign® over internet transaction under 3D-Secure program by respective creditcard companies so you are free from worries your card information disclosed. If your cards are protected under 3D Secure, please remember to input the correct password you are holding.
Instructions to pay online with Visa, MasterCard, Amex and JCB
We connect with OnePay Payment Gateway to accept Online Card Payment (www.onepay.vn). Your card information will not be stored at our system (merchant) but MasterCard with international security standard.
OnePay is the representative of the MaterCard Internet Gateway Service (MiGS) in Vietnam. Your card information will be protected during the transmission by using Secure Sockets Layer (SSL/168 bit) software, which encrypts the information that you provide online.
OnePAY – MiGS payment system meet PCI Data Security Standard of PCI Security Standards Council (www.pcisecuritystandards.org). OnePAY – MiGS payment system also joins 3D- Secure program of Visa, MasterCard and JCB.
1. Click payment link after receiving from email
After you have received your Order from us through a link via email, please follow the URL

The URL (Uniform Resource Locator) will begin with https://onepay.vn/invoice/payment
2. Review invoice
Please check the information of the Order. If all information is correct, please check the "Terms and Conditions" and click "I agreed with Terms and Conditions".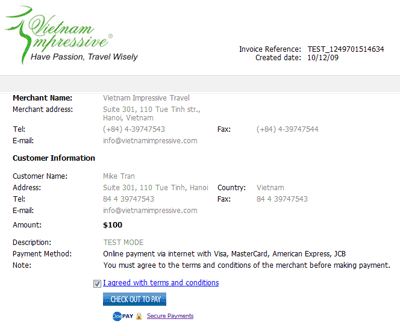 Then click "CHECK OUT TO PAY".
3. Card information input
To make the payment, you will input the following card information:
*Card Number
*Expiry Date
*Security Code – CVV, CVC
*Billing address (Card holder's address which has been registered with the Issuer Bank)
*Online payment password (If you have enrolled 3D- Secure Program for your card with the Issuer Bank namely Verified by Visa for Visa card, MasterCard Secure Code for MasterCard, and J- Secure for JCB Card ).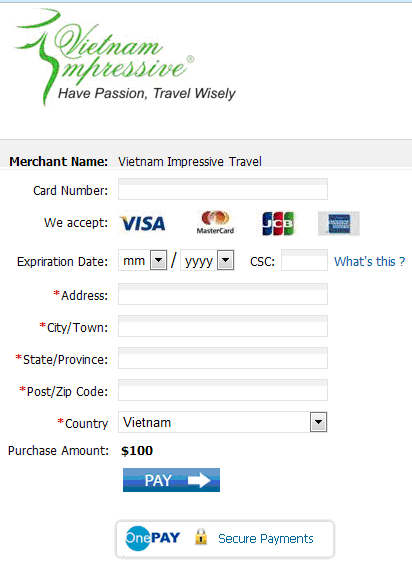 Click "PAY".
4. Transaction Result
You will wait for some seconds for the transaction result from OnePAY payment gateway.
If your payment is successful, you will see the notification: Your invoice was paid successfully!
If your payment is failed, you will see: Transaction was not successful!
An email will be sent to your email if transaction was successful.
Notes
In some cases, your transaction may be not successful due to:
– In correct card information
– Not enough credit balance (daily or monthly)
– Your card has not been activated for online payment. You should contact the Issuer Bank for the card activation.
In case you input card information then you did not receive any transaction result from the payment gateway or from us. Please do not try to make other payment. Contact us to get the transaction result and confirmation of the Order
SUPPORT DEPARTMENT
Tel: +84 24 39747543, +84 (0) 912476515
Email: info@vietnamimpressive.com; support@onepay.vn
II) CREDITCARD WARRANTY FORMS (VISA/MASTERCARD ACCEPTED)
These forms stipulated by banks in Vietnam to get your authorization to debit your credit card . This is half online method as you cannot check out immeditately from the website like other methods including Paypal or 2CO. Try to choose a reliable agents to work with as your creditcard information with CVC (creditcard verification code) will be disclosed. Anyhow, we have been reported no error, creditcard fake so far with thousands of visa applications via Vietnam Travel Agents done year each – decision is yours.
III) WESTERN UNION (WU) WORLDWIDE ONLINE MONEY TRANSFER OR MONEY GRAM TRANSFER (VISA/MASTERCARD ACCEPTED)
This is a worldwide money transfer like a gateway in which you can settle payment directly with your debit/creditcards. Western Union (WU) gains reputation among customers for many years. If you are still hesitant with the creditcard warranty forms then you may choose this which is fast, secure and timely customer support. The transaction fee varies from country to country depending on each local currency. Western Union online website applies SSL Verisign® secure transaction and you donot have to worry about your information to be disclosed in the internet. Just visit Western Union website and open an account in minutes then you are ready to send your payment.
Our travel consultant will send you detailed information in the email correspondence.
IV) TELEGRAPHIC BANK TRANSFER
This is the safest way although you would have to bear bank fee – the sum will vary from bank to bank. This way is suitable for big amount from US$1.000,–onward as whatever the amount and how little it is, you still have to pay bank charge.
Bank account for USD and VND
Beneficiary:     TRAN VAN QUYET
Account No.:   03301379000299 (USD) – Sending money from Overseas to Vietnam
Account No.:   03301019931998 (VND) – Sending money within Vietnam
Bank name:     Vietnam Maritime Commercial Stock Bank – Cau Giay Branch, Ha Noi, Viet Nam
(Maritime Bank)
Swift code:      MCOBVNVX
Bank address: 1st floor, AP Building, #58 Tran Thai Tong, Ward Dich Vong Hau, Dist. Cau Giay, Ha Noi, Viet Nam. Tel:(+84) 24 37958200
Bank account for VND
Beneficiary:     CONG TY TNHH DU LICH BNB VIET NAM (BNB VIETNAM TRAVEL COMPANY LIMITED)
Account No.:   0011 001 512 894 (VND) – Sending money within Vietnam
Bank name:     VietcomBank – Head office – Hanoi
Swift code:       BFTVVNVX
Bank address:  198 Tran Quang Khai, Hanoi, Vietnam. Tel: +842438243524
Note:
You need to bear the bank transfer fee for all parties of sender, receiver and intermediate international banking organization. When ready, please forward us the bank receipt via email. The payment normally reaches us in 5-7 working days.